Read Time:
7 Minute, 52 Second
Congratulations to the 2023 World Series champion Texas Rangers. And to us, their longsuffering fans.
The 1972 Rangers, a transistor radio, Little Granddad, and me
It is the Summer of '72. I have finally hit double-digits in age. Our family of four is crammed into the cramped quarters of an old wood-framed, pier-and-beam house that can't have been more than 900 square feet. My grandfather, who was 40 years old when he married and got a late start on starting a family, was already 73 years old. He lived with us. He and I shared a bedroom. We each occupied a twin bed and there was a nightstand between us. On that nightstand was Little Granddad's transistor radio.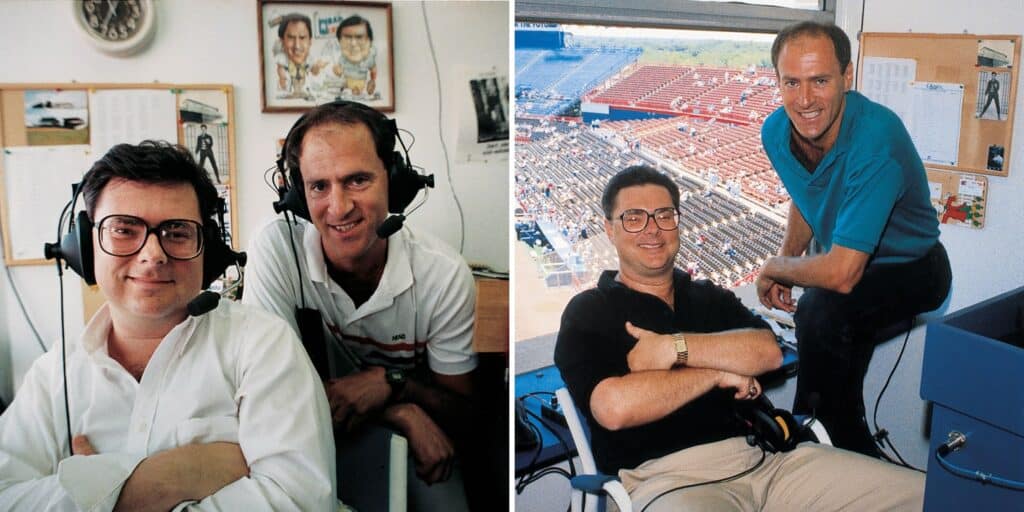 On baseball nights, he tuned into WBAP 820, one of the strongest AM signals in the country, and the flagship station of the Texas Rangers. In their inaugural year in Arlington, the Rangers finally brought America's pastime to Texas. With a scratchy signal, we listened to the DFW legend Bill Mercer and his Hall of Fame partner, Don Drysdale. It was magical, the way those guys unlocked the theater of the mind and "showed" us the game as if we were there. It was our field of dreams.
(Eric Nadel joined the broadcast booth in 1979 and Mark Holtz was added in '81. Together, they formed the most magical baseball-calling duo in team history. Mark Holtz would announce it was "baseball time in Texas" before the first pitch. If the Rangers won, it was, "Hello, win column!")
Little Granddad was a grouch and sometimes dour. He had a sense of humor. He just kept it locked away somewhere, probably in that old hard-sided suitcase, along with the rest of his valuables. He was mostly interested in turning my 10-year-old self into an enterprising, hardworking man, so I could pull my own weight. (My Uncle Troy, just three years older than me, and I were laughing about how my dad must have thought 11 was the right age to officially put a boy to work in a business. We each went into child labor mode at that age. I suppose Dad got that idea from his dad, the man I call Little Granddad.)
On baseball nights, however, Little Granddad and I bonded. He would tell me baseball was a man's sport and football was for sissies because multiple people ganged up to tacke one man. I argued against that notion, of course, because football was my first love. Baseball, however, was my best sport. I was already a member of a championship Little League team, and I was an all-star pitcher and first baseman. (I peaked way too early in my sports career.)
We would listen to the game, and celebrate when Mark Holtz exulted, "Hello win column!" Then, I would drift off to the fields in the dreams baseball induced.
Rained out in 1973
Our Little League team was the Athletics. Coach Blundell led us to a second consecutive city championship and we were to celebrate by attending a Texas Rangers baseball game. The Rangers were playing the mighty Oakland A's (short for Athletics). The A's were our namesake but the Rangers were our team.
The Oakland A's '73 roster featured all-time greats Rolly Fingers, Catfish Hunger, and Reggie Jackson. They played inspired baseball and their names were some of the first to inspire in me a love for great names.
The '73 Rangers featured guys like pitcher Dick Bosman, third baseman Toby Harrah, and outfielder Jeff Burroughs. They were not exactly household names…unless you lived in a household like mine.
This was huge! I was going to see my first professional sporting event. The field of AM radio dreams would be right before my eyes. As we drove into Fort Worth, however, the ominous clouds that had been assembling themselves throughout the day pissed rain in buckets and the game was canceled. We were crestfallen.
Coach Blundell rerouted us to Pizza Hut. A teammate and I pooled together our meager funds, which were meant for ballpark hot dogs, and ordered a sausage pizza. Rather than my first Big League game, I ate my first-ever slice of pizza. (We didn't eat out much in those days and if we did, it was never pizza. Ever.) Pizza Hut saved the day. To this day, sausage pizza is my favorite
Beer in the bleachers of old Ranger stadium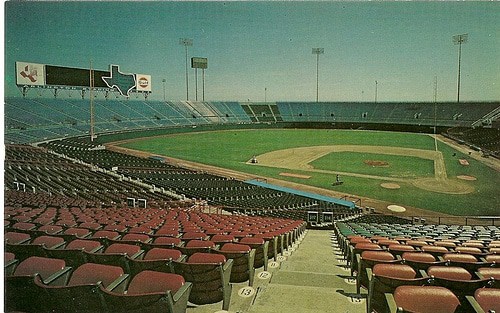 I was 16 before I made it to my first Rangers game. My cousin Tommy Richie and I went together. We sat in the outfield on the metal bleachers of Arlington Stadium and drank beer under a scorching Texas sun. I have no idea who the Rangers played or who won but it was the fulfillment of a longtime dream. Later, while in the front yard at my Uncle Gerald's place, along with Gerald, my dad, and our older cousin Paul, we were nearly found out for underage drinking. Paul kept asking us what that was he smelled on our breath. Thankfully, Dad and Uncle Gerald had him tuned out.
It would not have done for my Baptist father to find out his preacher boy had imbibed. I still don't know for sure, but I believe he intentionally tuned out Cousin Paul, maybe so he wouldn't have to make a federal case of it. I like to think so.
Hello, win column!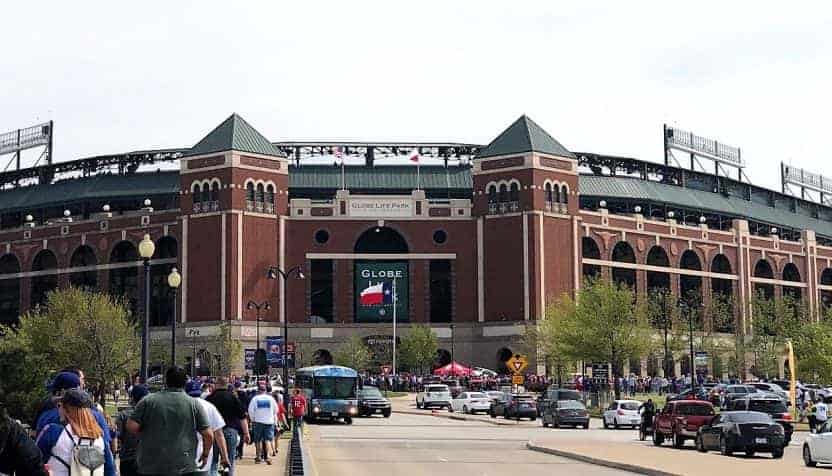 In 1996, the Rangers opened a new stadium. It was a red brick-and-steel giant with a throwback feel. It was majestic, magical, and too dang hot to visit in the heat of a Texas summer. Twenty-four years later, the Rangers moved into Globe Life Field. It, too, is beautiful (unless you count the outside, where it looks like a detached parking garage for Jerry's AT&T Stadium), and it has a roof! Now, you can watch Rangers baseball in 72-degree comfort, even in August. I did just that three times this year. They won each time I saw them play but I never dreamed I was watching the team of destiny.

In 2023, the Rangers lost a heartbreaker on the last day of the regular season and thus lost the Division race. They entered the playoffs as a road team and a longshot. All they did was make history by going 11-0 on the road. They dismissed the two best teams (by record) in the American League by sweeping both. They slew the giant and divisional and state rival Houston Astros by beating them four times in their own ballpark. Then, they became the only team in the 2023 postseason to put out the fire that was burning wildly in the Arizona desert.
From 102 losses in 2021 to their first-ever World Series title in 2023, the Rangers finally got rid of the label "one of six teams to never win a World Series." Now, there are five and we aren't one of them.
Yes, I said "we"!
I have long been annoyed by fans who use "we" when talking about the teams they support. I want to ask what position they play. A while back, however, when I had nothing else on my mind, I revisited this thought. I concluded it is proper to say "we" as a fan.
We are the reason, the only reason, anything they do on the field of play or in the arena amounts to more than a hill of beans. We are the reason they are paid obnoxious money to "play ball." We are the ones living and dying and weaving our teams into the fabric of our very lives. They play their games and then move on – to another team, or to retirement. We cheer on. Generation after generation, we suffer humiliation, sadness, disappointment, disillusion, joy, and celebration. We brag. We brood. We fuss. We argue. We remember.
Baseball provided me with the fondest memory I have of Little Granddad, a man who was an essential part of my life and yet an enigma to me. My father (who was not a sports guy) decided he liked Earl Campbell and the Houston Oilers because Earl the Pearl was my guy and a Texas Longhorn legend. Dad piled our family and my best friend Robert Bunnell into the family Chevrolet Suburban and took us all to see the Oilers play the mighty Steelers at the Astrodome. He also took Uncle Troy, Robert, and me to Texas Stadium, the mythical wonderland with the hole in the roof, to see my Dallas Cowboys play OJ Simpson and the Buffalo Bills on Monday Night Football.
Later in my life, my father-in-law and I bonded over the Cowboys. We celebrated three Super Bowl wins in the 90s together. We talked on the phone last night as soon as the final out was recorded and the Texas Rangers stood on the diamond, World Series Champions at last.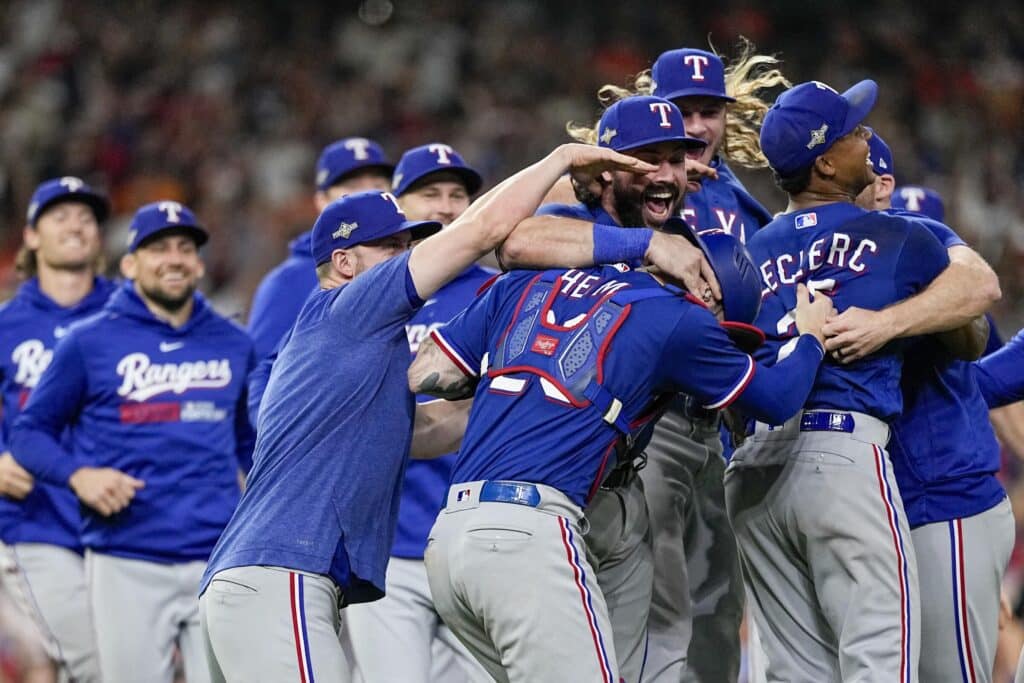 We won! We did it! We stuck with them through years, through decades of heartbreak and ho-hum. We did it. And while we did it, we lived, and worked, and played, and prayed, and some of us – like Little Granddad in 1987 and Dad in 1991 – died. We kept going, kept believing, kept the faith, and welcomed new generations to our field of dreams, and they celebrated with us.
We freaking did it!
Hello, win column!