Read Time:
5 Minute, 33 Second
There was a time when families, like nations, flew their flags…flags that bore a crest with emblematic symbols and sometimes mottoes. The Strother family is one of them.
Honestly, I didn't think much of my surname until a few years ago. I had always dismissed it as ordinary and a little hard to say. The pronunciation must have been problematic because plenty of people replaced the ö with a short u sound, making it Struther. Or, worse, they would say "Struthers," to which my portly father would reply, "Hey! I'm big but I'm not plural."
I accepted the notion that our origins were in Germany, same as my Mom's people, the Henagers. Strother sounded German to me. As I got older, however, I became more interested in my family's history and the people who conspired down through the centuries to make me who I am. I found that the Strothers hail not from Germany but from the north of England, the Northumberland area. That is where the name is first found. Strothers there held seats as lords of the manor and some lived in castles. Some say the Strothers precede the Norman conquest of 1066 as inhabitants of the area.
The earliest version of the family crest that I could verify was attached to William B Strother III, the brother of Jeremiah Strother, my 9th-generation ancestor. William was born in 1653. It stands to reason that the crest predates him and may reach as far back as the early 1600s or late 1500s. Maybe even before that. Suffice it to say it goes way back.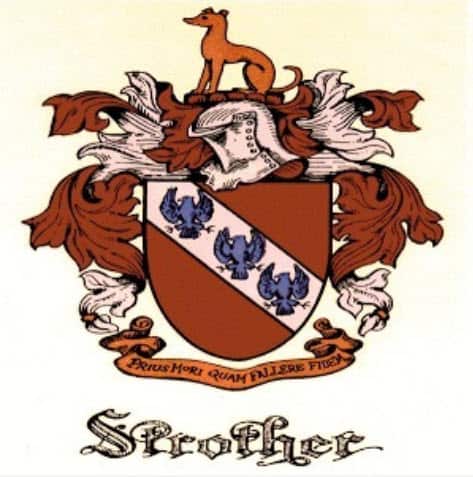 The Strother crest is a red and white shield with three eagles on it. There is red and white flora around it, a knight's helmet above the shield, a greyhound sitting atop the whole thing, and a scroll beneath with the Latin words, Prius Mori Quam Fallere Fidem, which translates as "Yield to death rather than betray trust." Its message is this: Be willing to die before you betray faith. Whether that means it is better to die than betray the faith others place in you or it is better to die rather than betray your spiritual faith may be open for debate. Either interpretation indicates the family had a sense of honor, of duty to faith.
"Fidem" means "Faith". The Strothers of Northumberland were big on trust. My assumption is they wanted to be deemed trustworthy and wanted to be counted as people of faith. That was at the crux of their family motto, their mantra.
I think it is a shame we don't have these family crests anymore. We wave our Stars and Stripes if we are proud Americans. We fly our Lone Star flags if we are Texans. (I bet even Oklahoma has a state flag and somewhere an Okie flies.) Some fly their Alabama Crimson Tide flags; others their Clemson Tigers flags, or their Ohio State Buckeyes flags. A few brave souls even fly their Texas Longhorns flags and believe someday their beloved football team will be relevant again.
Pride! That is what we fly these days. We are all so damn proud to be this and proud to be that. We take pride in stupid things like football games that are won by people we don't know, who play for reasons that have nothing to do with us.
But then, if we are Christians, we have to reconcile all this pride to the fact that Solomon wrote in Proverbs 6:16-19 that God hates seven things, and the first one he mentions is "A proud look."
Do you hate seeing smugness in a person? Do you just want to smack that smug look right off their face? Do you hate being around someone who puts off airs of being superior to everyone else? Well, God is with you on that.
Where did the family crests go, the ones that spoke of honor, integrity, faith, and trustworthiness? No amount of school or state pride will ever be the equivalent of that kind of commitment to a worthy life.
So, I have a few questions. Maybe you would like to use the comments section to give your answers. I would love it if you did.
Does your family have a crest? If so, what is the design and is there a slogan with it?
If you were designing a family crest, what would you include in the design? What motto would you have?
If you could say one principle or one attribute that your family is committed to, what would you say it is?
When you think about it, the most important thing you leave your children and their children and the generations that follow is your name. Whatever riches and estates you leave will likely be squandered or lost in a few generations. There were once Strothers who ruled Newkirk of Northumberland as the lords of the realm. Some were knights. They had castles, lands, servants, stock, prestige, and honor.
Just eight generations ago, this was true of my forebears. But I come from west Texas dirt farmers, men who pulled cotton sacks under the blazing Texas sun and, as my Dad would say in only slight exaggeration, "Didn't have a pot to piss in or a window to throw it out of."
Financially, my Dad left behind a minor mess and meager means. Spiritually, he left a legacy of faith and faithfulness, like the family crest he likely never knew existed. He did just what the family motto demands, He died before he betrayed the faith. Of earthly goods, he didn't give me much to hang onto but in spiritual riches, he left me a legacy to aspire to.
Every day, when I scroll social media, whether it is Facebook or LinkedIn, my primary haunts, I see memes and messages encouraging people to put themselves first, to kick people that don't treat them just so to the curb, to live for only for themselves, and thus find happiness. But the people posting that crap aren't happy. They are regurgitating the logic provided by the god of this world, the Old Serpent. They are buying the same lie he sold Eve. It all makes so much sense and it is all so flawed. Selfishness will never bring the happiness that investment does. Something to believe, something to believe in, someone (besides yourself) to fight for, some guiding principle, that is what is needed. That is what is missing.
What is your motto? What is your mantra?
Disclaimer: I love the United States, the state of Texas, the Dallas Cowboys (but not Jerry Jones), and the Texas Longhorns.