Read Time:
6 Minute, 8 Second
This is a written confession, a mia culpa.
I give myself writing projects because I want to hold myself accountable. Wednesday Noon is one example of the accountability effort. This assures that I will write something every week. Like any other skill, writing improves with practice and exercise. The singer, painter, sculptor, and dancer improve by putting in the work. So does the writer.
Most weeks, writing this piece is not work at all. It is a pleasure. It is cathartic. I find myself tapping away in happy anticipation of the next word. I am pursuing a story or providing insight. My fingers are a blur, trying to keep up with the stream of thoughts, ideas, and emotions flowing out of me like blood from the nose of a bleeder.
Yes, I am an emotional writer. The more strongly I feel about a subject, the more deeply I feel its impact in my bones, the better I write.
Or, so I think.
Confession of an unprepared preacher
Years ago, when I was a pastor, it was that way with preaching, too.
I never understood the preachers who struggled to find something to preach. I saw them buying sermon books so they could preach the sermons other preachers wrote. I thought of them as thrift store preachers. They were always looking for hand-me-downs. They were parrots. They were mimics. Mimes. I wondered why God would call a person to ministry who had nothing to say. Surely, God would give them something, a word. He did that with the prophets, didn't He? He gave Moses, Jeremiah, and Paul messages.
More than 1,900 times in the Bible messengers declared that they had a message directly from God. They used phrases like, "Thus says the Lord."
Ehud the assassin proclaimed to Eglon, the fat king of Moab, "I have a message for you from God." Then he stabbed the old toad with a dagger. Ehud then led the Israelites in a victorious military campaign against the Moabites.
If Ehud were like some preachers I have known, he would not have known how to get a message from God.
When I was a 19-year-old preacher, a pastor asked me after I preached for him on a Sunday night where I got my sermon. I told him I wrote it. He did not call me a liar but he seemed suspicious.
This was the same pastor who later told me, "When they write better sermons, I will preach better sermons."
And I thought to myself, "No. You won't."
Then, one Sunday morning, after a hard week of inner turmoil, putting out little fires lit by flaming tongues of gossip, visiting with a dying friend, and attending to other more mundane things, I found myself sitting in my study at 6:30 AM on a Sunday morning with nothing to say. In a couple of hours, other church leaders would arrive and my busiest day of the week would commence. At 10 AM, worship would be underway. Hundreds of people would fill the pews in anticipation of a word from God…from me.
Typically, I had my Sunday morning sermon written no later than Tuesday and would use a part of each day thereafter studying it, refining it, and preparing it for delivery. On this particular Sunday, however, I sat there with a blank page, a blank mind, and an overwhelming sense of failure and guilt. Reluctantly, I pulled a book of sermons from my library and opened it. God was dealing with my pride, I think. He does that quite often, as it is my besetting sin. Here I was, about to act like the "When They Write Better Sermons, I will Preach Better Sermons" Preacher.
The first sermon I read mentioned in passing the following passage:
For we do not proclaim ourselves, but Jesus Christ as Lord, and ourselves as your servants for Jesus' sake. For God, who said, "Let light shine out of darkness," made His light shine in our hearts to give us the light of the knowledge of the glory of God in the face of Jesus Christ.

Now we have this treasure in jars of clay to show that this surpassingly great power is from God and not from us. We are hard pressed on all sides, but not crushed; perplexed, but not in despair; persecuted, but not forsaken; struck down, but not destroyed.

2 Corinthians 4:5-8 (Berean Study Bible)
I do not propose that anyone should be free of influence. Listen to others. Read others. Learn from others. Quote others. Emulate the best qualities you find in others. But for God's sake, have something to say yourself.
The words that caught my eyes were these: "Now we have this treasure in jars of clay." I was actually reading from the King James bible, which calls us "earthen vessels."
I had never felt more like a failure on a Sunday morning than I had that morning. In my sulking and despite my dread of impending disaster, from a sermon book, God spoke to me. I am an earthen vessel! I am frail. I am subject to cracks, fractures, and discoloration. But I am His vessel! That old excitement surged in me. The ecstasy of inspiration. I turned to my computer and wrote this title: Heavenly Treasure in Earthen Vessels.
Then, I wrote the sermon in record time. I had no time to practice or ponder, only an uncontainable urge to preach it. I did, just a couple of hours later.
That sermon became one of the most memorable of my ministry in that church. People responded to it. They felt my vulnerability. They identified with my fear, my dread. I was not alone and neither were they. Furthermore, God knew what kind of vessel He was pouring His Spirit into and He did it anyway.
The sermon inspired a young man in our church, an artist studying fine arts at the university to make a clay jar as a class project. The inside of the jar glistened with the beautiful hues of a blue glaze. The exterior was rough and earthy. He gave it to me. Inside, he had dropped a card that read, "Heavenly treasure in earthen vessels. 2 Corinthians 4:7." That vessel is one of my most cherished possessions.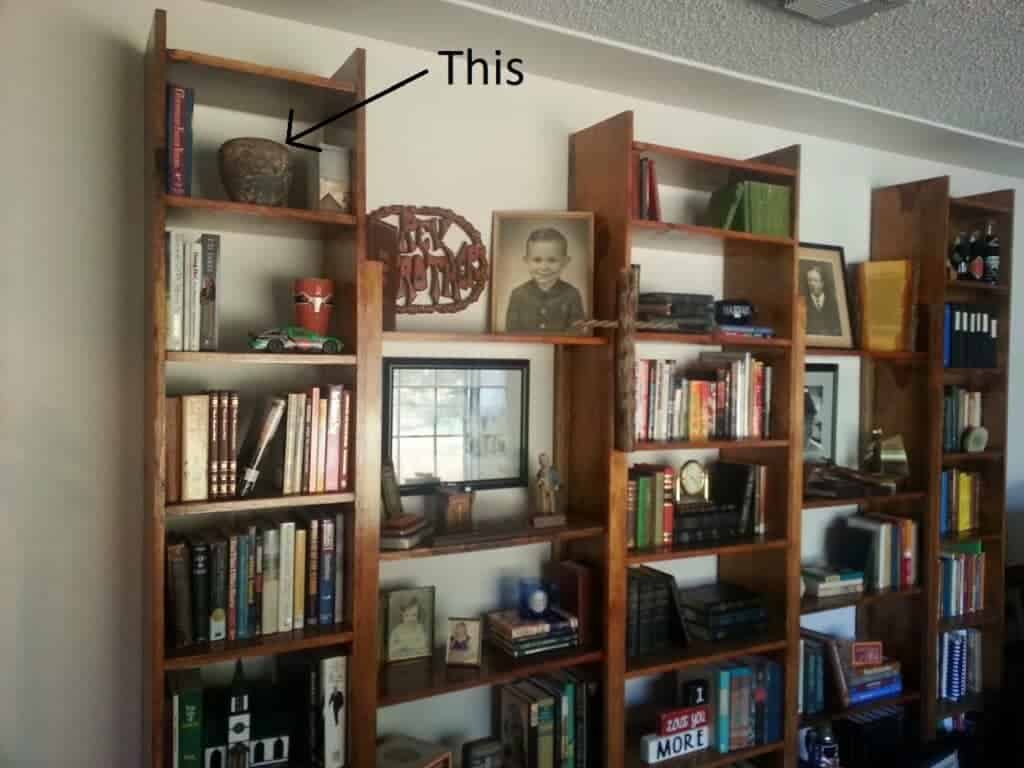 Curtis Blake was the young artist. He is now the pastor of that very church and has been for around 20 years.
God did that.
Do it anyway
So, here I sit, later than usual, pecking away with nothing to say. This is Wednesday Noon and I made a promise to myself and to you that I would write. With not much else stirring in my bones, I thought it best to write my confession: I don't feel like writing right now.
What do you do when you make a promise that requires recurring effort? Whether it is a diet, an exercise program, or a promise to your spouse or kid, there will likely come that time when you don't feel like doing it. That is when doing it is more important than ever. It is those moments that separate the difference-makers from the excuse-makers and the achievers from the rest.
Do it anyway.
My name is Gene Strother and this is Wednesday Noon.