Read Time:
8 Minute, 38 Second
Some folks want to be somebody while others just want somebody to be.
Typically, it goes in this order:
You spend your childhood looking for somebody to be.
Once you figure out somebody to be, you set out to be somebody.
A person will not usually embark on the second until they have settled on the first. Do you want to be a fireman, an athlete, an astronaut, a singer, an actor, a physicist, a doctor, a lawyer, a preacher, or do you want to be just like your dad or your mom? Once that is settled, then the effort to be somebody commences.
Bassackwards, as Dad would say
I think I got this process backwards myself. I knew very early on that I wanted to be a preacher. Oh sure, I also wanted to be a Dallas Cowboy but the odds were stacked against me and by 11 or 12, I knew that was an impossible dream, so I relegated it to my fantasy life and kept the preaching thing as my focus.
You see, I had a father who had a church. He was not against his six or seven-year-old son "surrendering to preach." Nor was he against putting him right up there behind the pulpit to get a feel for it.
I do not remember much of my early childhood in technicolor detail. Most of the memories from then are black-and-white and piecemeal. This one memory, however, stands out. It is the memory of the very first time I ascended the pulpit. I could not have yet been eight years old. 
Wednesdays in Sansom Park
It was a Wednesday night at the Baptist church in Sansom Park, Texas where my Dad was the pastor. I do not recall the name of the church and neither of my parents is here to ask. I think it was Sansom Park Baptist Church. I will go with that until corrected.
It was one of those small churches with two rows of dark-stained wooden pews. Each pew had a dark red cushion that ran the length of the pew's seat. There was no cushion for the back. On the back of each pew, except for the very back pew, were two hymnal holders, evenly spaced for the convenience of the person in the pew facing it. Each holder had two copies of the red All-American Hymnal. 
There was a small foyer, swinging stained hollow-core doors opened into the sanctuary. The middle aisle, between the two rows of pews, was carpeted in a deep red carpet that roughly matched the pew cushions. The low platform at the front of the sanctuary had but one step up to it. It too was covered in the red carpet. A small pulpit stained the color of the pews had a cross on the side of it facing the congregation and an open backside with a shelf for storing notes or a glass of water or tissue or whatever. To the left of the podium, as you faced it from the middle aisle was an upright piano. It was old but Mom could still pound out some beautiful hymns on it. To the right was an organ nobody in the small congregation was qualified to play. Beyond the pulpit was a choir loft, just one step higher than the platform. It sported a modesty drape about knee-high, so you couldn't peek up the women's skirts when they sat in the choir. Behind the two rows of choir chairs, which were only six to a row (this was not a big church) was an opening cut into the wall for a baptistry. A small glass pane showed a couple inches of water when the baptistery was full. The wall behind had a mural of the River Jordan.
This was the setting sometime in 1968, on a summertime Wednesday night when I stood on a chair behind the pulpit to "preach" to the thirty-or-so unfortunate souls present to hear my very first sermon. The chair was necessary so I could see over the pulpit.
Just an abomination
I am sad to report that I do not remember my sermon title or what words of wisdom I imparted to the faithful that night. I do not remember the text I chose but I do remember it had the word "abomination" in it, so it was likely from the Proverbs or Matthew or Mark. I remember it because Dad had to help me with the word. He said it to me from the front pew and I read it to the people.
What a seven-year-old boy knows about abominations and the abominable people who do abominable acts, I do not know. But I had a pretty good idea that night, I suppose.
I did not need somebody to be. I had that down by seven. So, I set out to be somebody. By the time I was 14, I had read stories about men of God – men like Dwight Lyman Moody, Charles Haddon Spurgeon, the martyr missionary Jim Elliot, fireball evangelist Billy Sunday, and others. I spent 10 years in my grandfather's church where I was exposed to the eloquence, passion, and fiery rhetoric of evangelists and pastors that came to preach revival meetings in our church. 
I was going to be somebody. I was going to be the next D.L. Moody or Billy Sunday. I was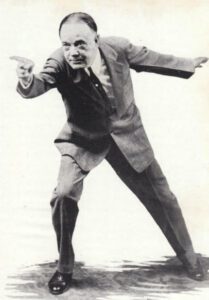 going to preach with the fire of Jessie Simon, the eloquence of Tom Warren, and with captivating command of A.V. Henderson. I was going to be somebody.
By 19, I was a youth pastor in Fort Worth. Nineteen! At 23, I was pastor of a small church in Turlock, California. I was in such a hurry to be that somebody that I skipped the ax-sharpening process and went straight into full-time ministry. I managed to get my Bachelor's degree along the way and I managed to work in the building of some fine ministries.
Where'd I go and how'd I get there?
I also managed to lose my way along the way. I managed to go back to find number one long after I had settled on number two. I found myself needing to find somebody to be. I no longer needed to be somebody.
Let me tell you, forget being somebody. Find somebody, something to be, and be the best at it you can. Live not for glory nor fame, for they are fickle and fleeting. Live on purpose, love people, and lose pride.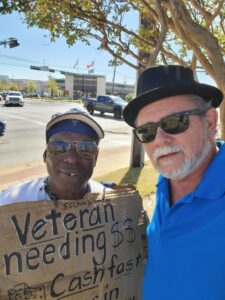 I stopped to give a homeless man a bit of money a few months back. I did it because he caught my eye. The sign he held was funny. He approached his plight with a sliver of humor and good nature.
When I pressed a folded bill into his hand, he thanked me through a mouth half-full of rotted teeth (the rest were missing).
"I used to be somebody," he said. "I was a soldier once."
"Well, I did, too," I replied. "I was a pastor once. Maybe we are still somebody, you and me."
I asked if I could pray with him. He said he wished I would. I did. I wept as I walked back to my truck and the comfort of my life – a comfort as tenuous and delicate as his might have been once.
Being somebody is not all it is cracked up to be. Having somebody to be – yourself. in the service of God and mankind – is all there really is and all that really matters.
Don't brag about tomorrow,

since you don't know what the day will bring.

2Let someone else praise you, not your own mouth—

a stranger, not your own lips.

3A stone is heavy and sand is weighty,

but the resentment caused by a fool is even heavier.

4Anger is cruel, and wrath is like a flood,

but jealousy is even more dangerous.

5An open rebuke

is better than hidden love!

6Wounds from a sincere friend

are better than many kisses from an enemy.

7A person who is full refuses honey,

but even bitter food tastes sweet to the hungry.

8A person who strays from home

is like a bird that strays from its nest.

9The heartfelt counsel of a friend

is as sweet as perfume and incense.

10Never abandon a friend—

either yours or your father's.

When disaster strikes, you won't have to ask your brother for assistance.

It's better to go to a neighbor than to a brother who lives far away.

11Be wise, my child,a and make my heart glad.

Then I will be able to answer my critics.

12A prudent person foresees danger and takes precautions.

The simpleton goes blindly on and suffers the consequences.

13Get security from someone who guarantees a stranger's debt.

Get a deposit if he does it for foreigners.b

14A loud and cheerful greeting early in the morning

will be taken as a curse!

15A quarrelsome wife is as annoying

as constant dripping on a rainy day.

16Stopping her complaints is like trying to stop the wind

or trying to hold something with greased hands.

17As iron sharpens iron,

so a friend sharpens a friend.

18As workers who tend a fig tree are allowed to eat the fruit,

so workers who protect their employer's interests will be rewarded.

19As a face is reflected in water,

so the heart reflects the real person.

20Just as Death and Destructionc are never satisfied,

so human desire is never satisfied.

21Fire tests the purity of silver and gold,

but a person is tested by being praised.d

22You cannot separate fools from their foolishness,

even though you grind them like grain with mortar and pestle.

23Know the state of your flocks,

and put your heart into caring for your herds,

24for riches don't last forever,

and the crown might not be passed to the next generation.

25After the hay is harvested and the new crop appears

and the mountain grasses are gathered in,

26your sheep will provide wool for clothing,

and your goats will provide the price of a field.

27And you will have enough goats' milk for yourself,

your family, and your servant girls.

Proverbs 27 (New Living Translation)

Tweet